CONTACTS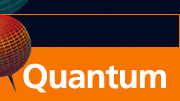 Quantum Initiative: Quantum Lunch
The Quantum Lunch is regularly held on Thursdays in the Theoretical Division Conference Room, TA-3, Building 123, Room 121.

The organizing committee includes Malcolm Boshier (P-21), Lukasz Cincio (T-4), Diego Dalvit (T-4), Changhyun Ryu (P-21) , Nikolai Sinitsyn (T-4), Rolando Somma (T-4), Yigit Subasi (T-4), Christopher Ticknor (T-1), and Wojciech Zurek (T-4).

For more information, or to nominate a speaker, contact Yigit Subasi or Lukasz Cincio.

To add your name to the Quantum Lunch email list, contact Kacy Hopwood.

Thursday, January 25, 2018
12:30 PM - 2:00 PM
Speaker: Jamir Marino (University of Colorado)
Technical Host: Yigit Subasi
TOPIC: Pre-thermal dynamical phase transitions: experiments, microscopic models, field theory
Abstract
The talk is a journey on the topic of dynamical phase transitions in out-of-equilibrium quantum many body systems. I will first present results regarding a collective Heisenberg ferromagnet displaying a long-lived, stable dynamical ferromagnetic phase and discuss its realisation with ultra-cold fermions. The seminar will branch then into the possibility to engineer a dynamical chaotic ferromagnetic phase when quantum fluctuations reshape the out-of-equilibrium mean field phase diagram of the Lipkin-Meshkov-Glick model. Finally, I will present results, based on Keldysh field theory and renormalization group analysis, concerning the onset of critical aging in isolated interacting quantum systems.