CONTACTS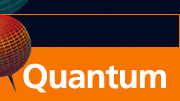 Quantum Initiative: Quantum Lunch
The Quantum Lunch is regularly held on Thursdays in the Theoretical Division Conference Room, TA-3, Building 123, Room 121.

The organizing committee includes Malcolm Boshier (P-21), Lukasz Cincio (T-4), Diego Dalvit (T-4), Changhyun Ryu (P-21) , Nikolai Sinitsyn (T-4), Rolando Somma (T-4), Yigit Subasi (T-4), Christopher Ticknor (T-1), and Wojciech Zurek (T-4).

For more information, or to nominate a speaker, contact Yigit Subasi or Lukasz Cincio.

To add your name to the Quantum Lunch email list, contact Amanda Martinez.

Thursday, August 23, 2018
12:30 PM - 2:00 PM
Speaker: Helmut Katzgraber (TAMU)
Technical Host: Yigit Subasi
TOPIC: Quantum-driven classical optimization
Abstract
The advent of the first useful quantum computing devices has resulted in an arms race with classical algorithms on traditional computing hardware. While near-term quantum devices might revolutionize, e.g., optimization and quantum chemistry, tackling many applications will directly depend on either hybrid or purely classical computing techniques. Inspired by these recent exciting developments, a variety of new classical algorithms have emerged. In this talk an overview on quantum inspired methods and their applications is given.