CONTACTS
Coordinator
Sebastian Deffner
Quantum Lunch Location:
T-Division Conference Room, TA-3,
Building 123, Room 121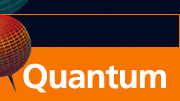 Quantum Institute: Visitor Schedule
The Quantum Lunch is regularly held on Thursdays in the Theoretical Division Conference Room, TA-3, Building 123, Room 121.

The organizing committee includes Malcolm Boshier (P-21), Diego Dalvit (T-4), Michael Di Rosa (C-PCS), Sebastian Deffner (T-4 & CNLS), Changhyun Ryu (P-21) , Nikolai Sinitsyn (T-4), Rolando Somma (T-4), Christopher Ticknor (T-1), and Wojciech Zurek (T-4).

For more information, or to nominate a speaker, contact Sebastian Deffner.

To add your name to the Quantum Lunch email list, contact Ellie Vigil.

Thursday August 6, 2015
12:30 PM - 2:00 PM
Speaker: Juan Pablo Paz (University of Buenos Aires)
Technical Host: Wojciech Zurek
TOPIC: Work measurement as a generalized quantum measurement
Abstract
I will discuss a new method to measure the work performed on a driven quantum system and to sample its probability distribution P(w). The method is based on a simple fact that remained unnoticed until now: Work on a quantum system can be measured by performing a generalized quantum measurement at a single time. Such measurement, which technically speaking is denoted as a POVM (positive operator valued measure) reduces to an ordinary projective measurement on an enlarged system. This observation not only demystifies work measurement but also suggests a new quantum algorithm to efficiently sample the distribution P(w). This can be used, in combination with fluctuation theorems, to estimate free energies of quantum states on a quantum computer.