CONTACTS
Coordinator
Sebastian Deffner
Quantum Lunch Location:
T-Division Conference Room, TA-3,
Building 123, Room 121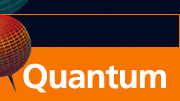 Quantum Institute: Visitor Schedule
The Quantum Lunch is regularly held on Thursdays in the Theoretical Division Conference Room, TA-3, Building 123, Room 121.

The organizing committee includes Malcolm Boshier (P-21), Diego Dalvit (T-4), Michael Di Rosa (C-PCS), Sebastian Deffner (T-4 & CNLS), Changhyun Ryu (P-21) , Nikolai Sinitsyn (T-4), Rolando Somma (T-4), Christopher Ticknor (T-1), and Wojciech Zurek (T-4).

For more information, or to nominate a speaker, contact Sebastian Deffner.

To add your name to the Quantum Lunch email list, contact Ellie Vigil.

Thursday March 19, 2015
12:30 PM - 2:00 PM
Speaker: Igor Aleiner (Columbia University)
Technical Host: Nikolai Sinitsyn
TOPIC: The internal structure of a vortex in a two-dimensional superfluid with long healing length
Abstract
We analyze the motion of quantum vortices in a two-dimensional bosonic superfluid within Popov's hydrodynamic description. In the long healing length limit (where a large number of particles are inside the vortex core) the superfluid dynamics is determined by saddle points of Popov's action, which, in particular, allows for weak solutions of the Gross-Pitaevskii equation. We solve the resulting equations of motion for a vortex moving with respect to the superfluid and find the reconstruction of the vortex core to be a non-analytic function of the force applied on the vortex. This response produces an anomalously large dipole moment of the vortex and, as a result, the spectrum associated with the vortex motion exhibits narrow resonances lying within the phonon part of the spectrum, contrary to traditional view.