CONTACTS
Coordinator
Adolfo del Campo
Quantum Lunch Location:
T-Division Conference Room, TA-3,
Building 123, Room 121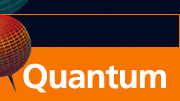 Quantum Institute: Visitor Schedule
The Quantum Lunch is regularly held on Thursdays in the Theoretical Division Conference Room, TA-3, Building 123, Room 121.

The organizing committee includes Ryan O. Behunin (T-4 & CNLS), Malcolm Boshier (P-21), Adolfo del Campo (T-4 & CNLS), Michael Di Rosa (C-PCS), Ivar Martin (T-4), Changhyun Ryu (P-21), Rolando D. Somma (T-4), Christopher Ticknor (T-1), and Wojciech H. Zurek (T-4).

For more information, or to nominate a speaker, contact Adolfo del Campo.

To add your name to the Quantum Lunch email list, contact Ellie Vigil.

Note special day and location
Tuesday, February 21, 2012
12:30 PM - 2:00 PM in CNLS Conference Room
Speaker: Stephanie Wehner (Centre for Quantum Technologies, National University of Singapore)
Technical Host: Rolando Somma
TOPIC: Security in the noisy-storage model
Abstract
The noisy-storage model allows the secure implementation of two-party cryptographic primitives based on the sole assumption that no large-scale reliable quantum storage is available to the cheating party. This talk provides an overview of the state of the art. We present a summary of theoretical and experimental progress including some interesting new results.