CONTACTS
Coordinator
Adolfo del Campo
Quantum Lunch Location:
T-Division Conference Room, TA-3,
Building 123, Room 121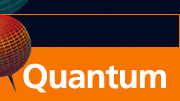 Quantum Institute: Visitor Schedule
The Quantum Lunch is regularly held on Thursdays in the Theoretical Division Conference Room, TA-3, Building 123, Room 121.

The organizing committee includes Ryan O. Behunin (T-4 & CNLS), Malcolm Boshier (P-21), Adolfo del Campo (T-4 & CNLS), Michael Di Rosa (C-PCS), Ivar Martin (T-4), Changhyun Ryu (P-21), Rolando D. Somma (T-4), Christopher Ticknor (T-1), and Wojciech H. Zurek (T-4).

For more information, or to nominate a speaker, contact Adolfo del Campo.

To add your name to the Quantum Lunch email list, contact Ellie Vigil.

Thursday, July 19, 2012
12:30 PM - 2:00 PM
Speaker: Alexander Streltsov (Heinrich-Heine-Universitat Dusseldorf)
Technical Host: Wojciech Zurek
TOPIC: Quantum cost for sending entanglement
Abstract
Establishing quantum entanglement between two distant parties is an essential step of many protocols in quantum information processing. One possibility for providing long-distance entanglement is to create an entangled composite state within a lab and then physically send one subsystem to a distant lab. However, is this the "cheapest" way? Here, we investigate the minimal "cost" that is necessary for establishing a certain amount of entanglement between two distant parties. We prove that this cost is intrinsically quantum, and is specified by quantum correlations. Our results provide an optimal protocol for entanglement distribution and show that quantum correlations are the essential resource for this task.