CONTACTS
Coordinator
Diego Dalvit
Quantum Lunch Location:
T-Division Conference Room, TA-3,
Building 123, Room 121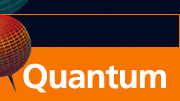 Quantum Institute: Visitor Schedule
The Quantum Lunch is regularly held on Thursdays in the Theoretical Division Conference Room, TA-3, Building 123, Room 121.
For more information, contact Diego Dalvit.
April 6 , 2006
12:30 PM
Raymond Laflamme,
University of Waterloo
Quantum Information A Promise for Revolution In Information Processing
Abstract
Quantum information is an exciting field that promises a revolution in information processing. We know of quantum algorithms and protocols that are much more powerful than that of their classical counterpart. In this talk, I will describe recent progress using NMR systems for quantum computation. I will briefly comment on a recent experiment on the solid state version of NMR and explain how it can solve some of the problems raised in the liquid state systems. I will also describe a few experiments where sufficient control has been achieved to describe interesting protocols such as health bath algorithmic cooling.